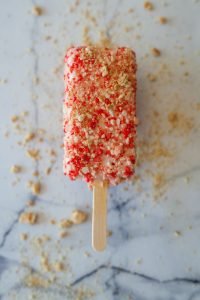 Whether you are crafting at home with a DIY project or making tasty treats,  good affordable Popsicle sticks are important to your project. Here we will review our picks for the best quality cheapest popsicle sticks and where to buy them.
So, what are the Cheapest Popsicle Sticks?
A company called Acerich offers a great cheap and affordable 200 pack of classic wooden Popsicle sticks. These are your basic popsicle sticks which can double as craft sticks depending on your needs. They measure 4.5 Inches long while being 10 millimeters wide and 2 millimeters thick. This is a great option if you're looking for a bulk pack of classic wooden style sticks. These also comply with FDA and CE regulations.
If you want an assorted pack that has both natural wooden colored sticks along with the colored variety, the 200 piece set from YRYM HT is a great affordable option. This set comes with 100 natural wood colored sticks, along with 100 colored sticks. These are your standard 4.5 inch by .39 inch by .078 inch sticks, that are also FDA approved, and comply with FSCE and CE regulations.
Both of these options on the list are very affordable and very similar in price. If you're looking for cheap natural colored craft popsicle sticks the Acerich bulk pack is great, but if you like both colored and natural the YRYM HT set is another great option. The possibilities are endless with these sticks when it comes to making treats, or DIY crafting projects. It's all up to you what you choose to create, but these are good budget friendly options to get you started.