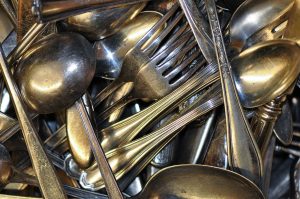 Disposable cutlery makes cleaning up after meals or parties a breeze. They're perfect for taking to work or hosting gatherings. Here we will take a look at some of the cheapest disposable cutlery sets and where to buy them.
What is the Cheapest Disposable Cutlery?
When it comes to disposable utensils, you don't want to go to cheap. Often times cheap disposable cutlery sets will end up being flimsy, making eating with them frustrating. One of the cheapest options on the market you will find, that still remains sturdy and durable is the EDI Disposable Plastic Cutlery Set. This is a 210 box featuring 70 forks, 70 knives, and 70 spoons. These are made from durable BPA free plastic, and are very affordable, which is why we had to include them on the top of the list.
Another great durable option when it comes to the cheapest disposable cutlery is the AmazonBasics 360 Piece Set. This is made from durable clear plastic featuring 180 forks, 120 spoons, and 60 knives. The utensils themselves are made from FDA-approved polystyrene plastic and are the perfect disposable silverware. They also sell this in a 1800 piece set so you can save money in the long run if you need bulk cutlery.